Disclaimer: Most of these pictures aren't great as they were either taken in dimly lit rooms or stairways, or in incredibly bright sunlight, which meant that I couldn't see where the camera had focused, or how it had light-balanced.
Anyway, I noticed recently that as part of the Heritage Open Days the church tower of St Mary's in Nottingham's Lace Market was open for two days. It seemed like a great outing for me and The Boy, and the views from the top would be amazing.
St Mary's is on High Pavement in the Lace Market, a pleasant mix of modest Georgian and massive Victorian buildings. My favourite part of Nottingham.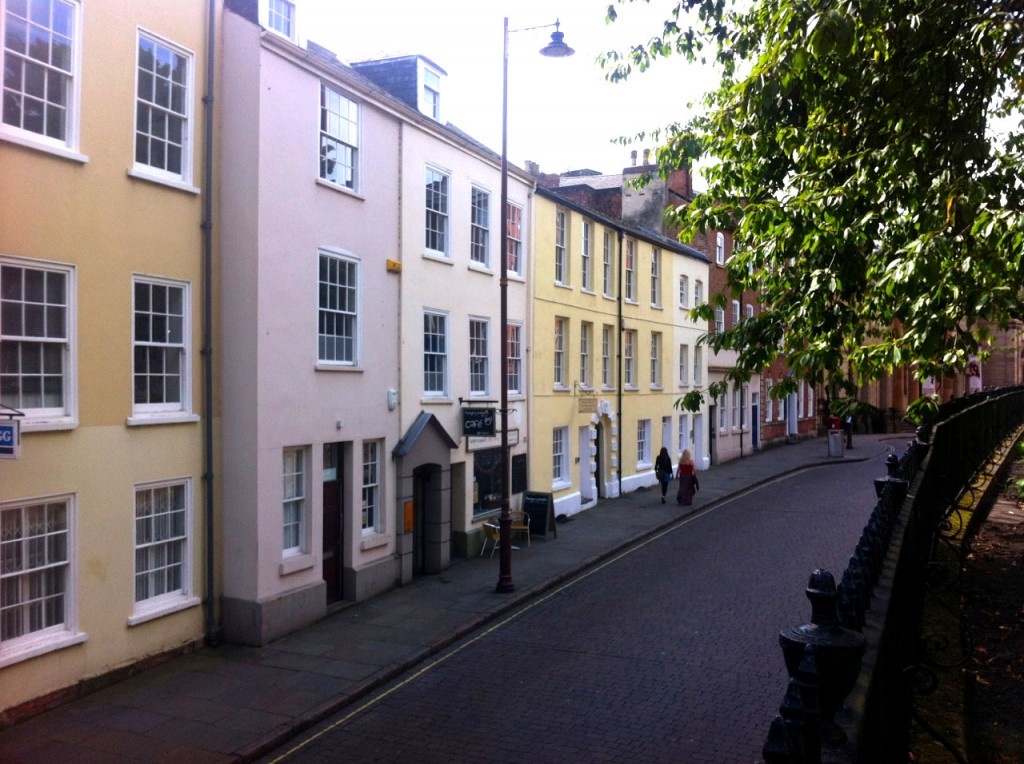 In the middle of this densely-packed area stands St Marys. It is mentioned in the Doomsday book and is thought to be at least the third building on this site. The main body of the church dates from between 1377 and 1509. The nave was finished before 1475. It is, apparently, an excellent example of the Perpendicular style of architecture.
It is also, because of the narrow streets around there, a devil of a job to get a good photo of it.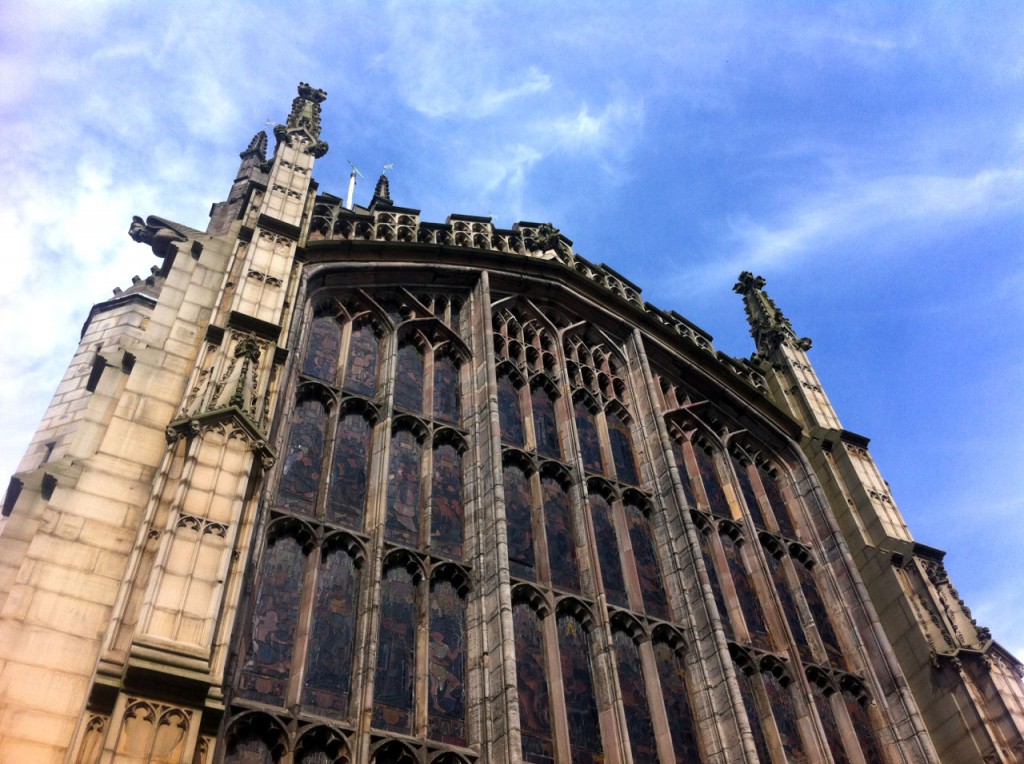 After meeting with the lovely volunteers from The Friends Of St Mary's Nottingham who were hosting the Heritage Open Day, I handed over £4 and The Boy and I set off up a very tight stone staircase.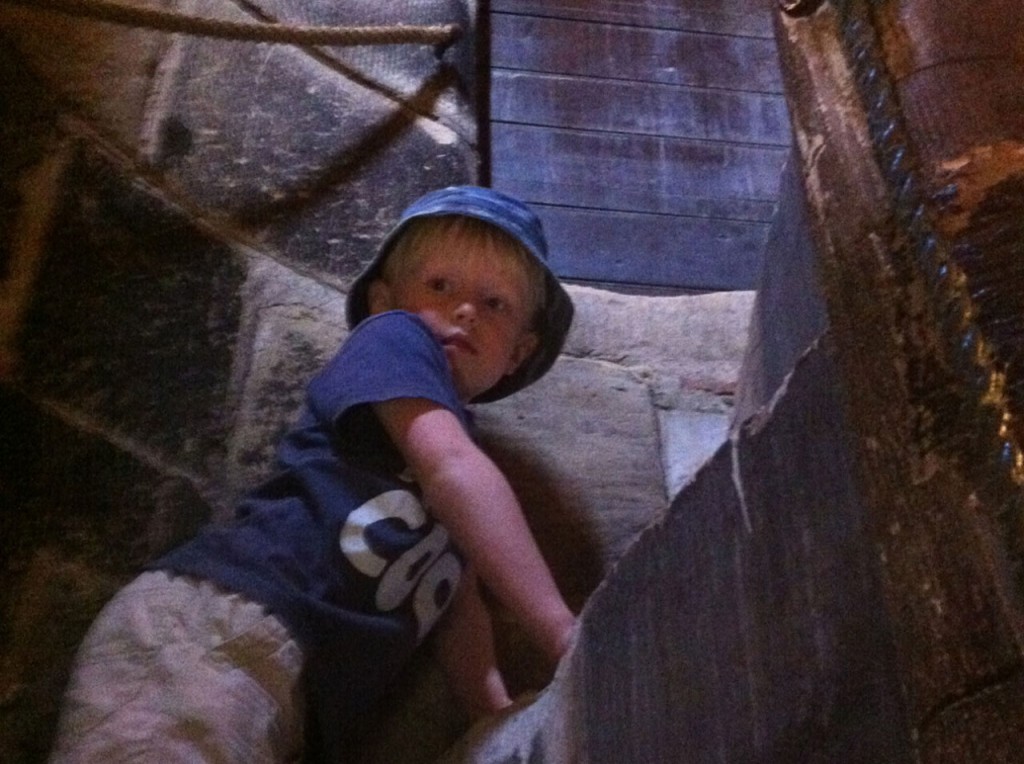 This lead to a walkway with a great view of High Pavement…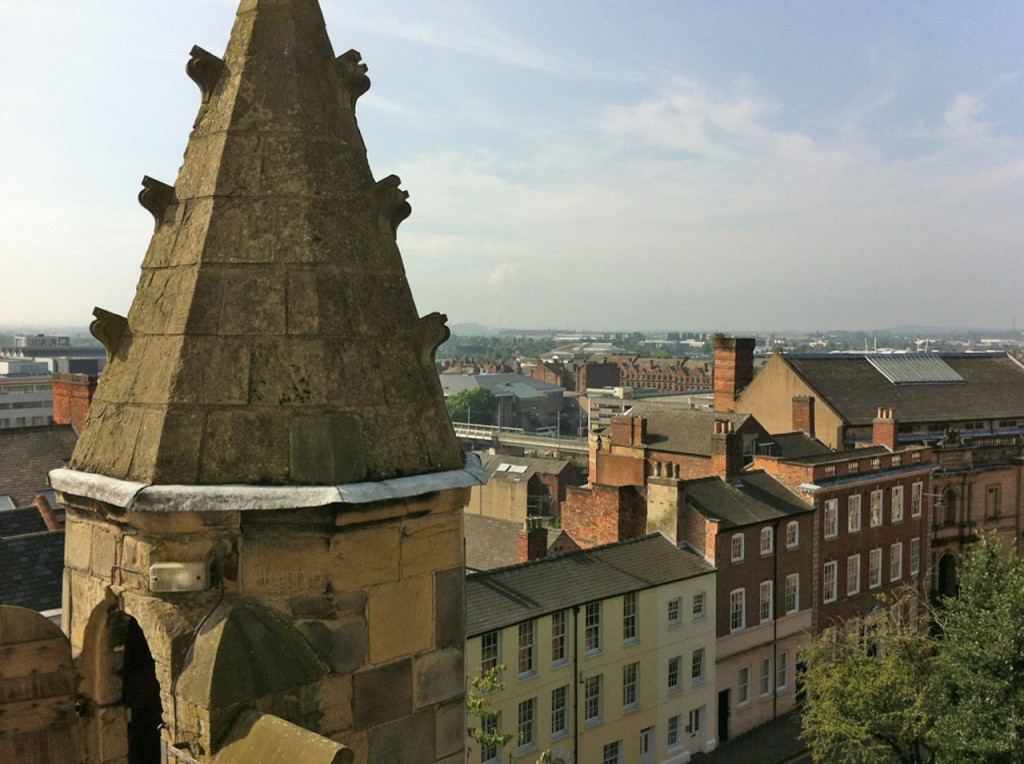 …and the roof of the nave.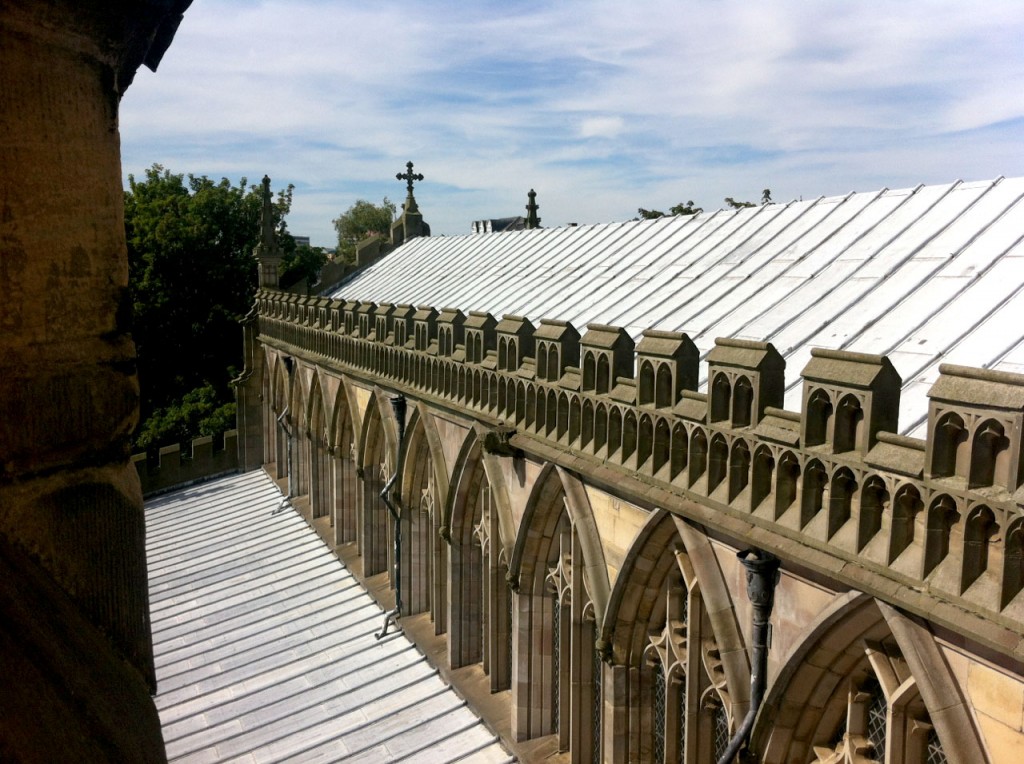 On, up a narrow flight of steps (viewed from above)…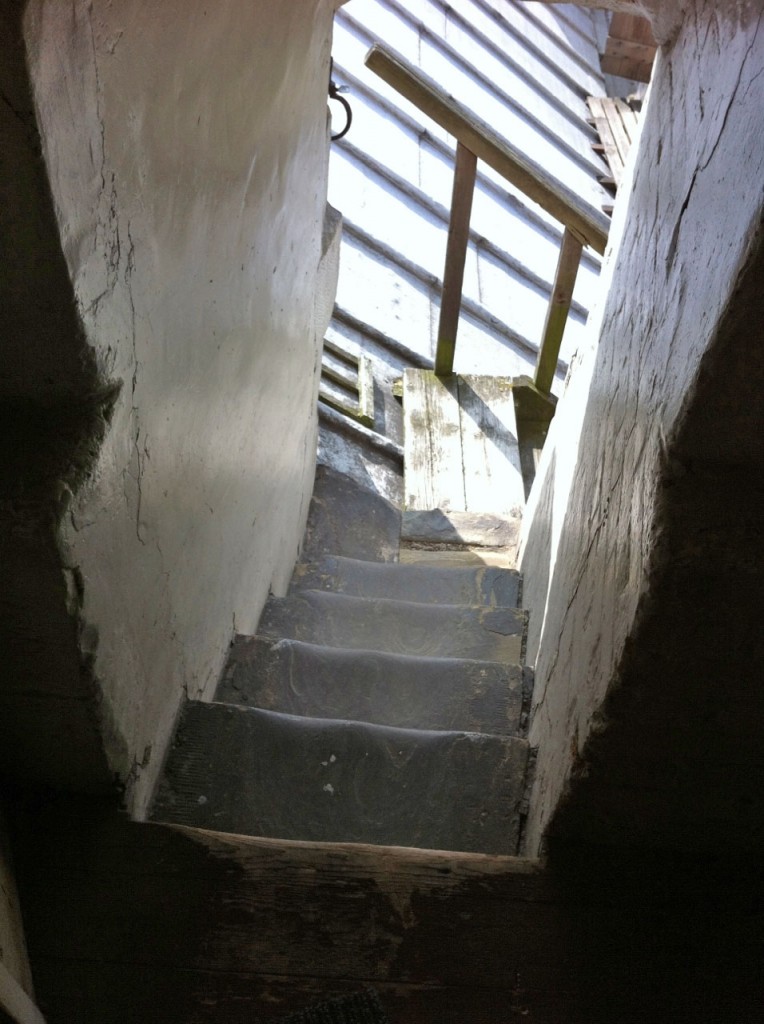 And in to the dimly-lit bell ringing room. Here we had a brief talk about the history of bell ringing at St Mary's. I'd no idea that a peal of bells was such an involved performance – 5,000 changes, and over 3 hours in duration. The plaques in the background celebrate previous peals and some date back to the 18th century.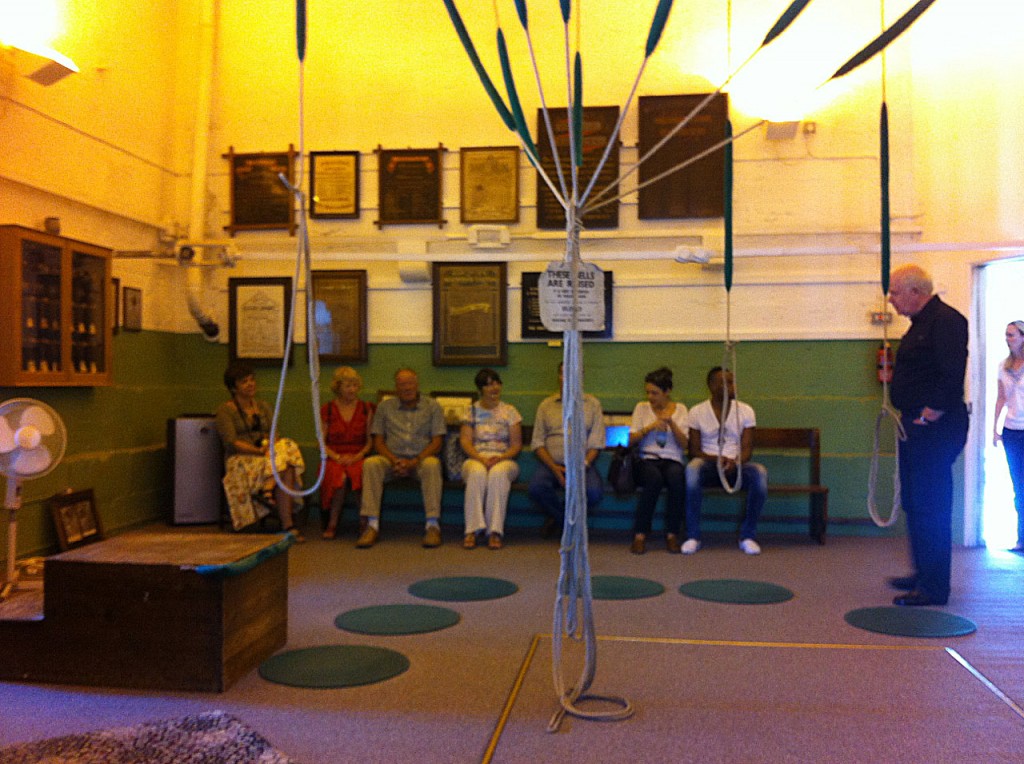 The talk finished with the ringing of a bell – it was very loud and sounded exactly like a spooky church bell in a horror film. It was too loud for The Boy – who was rather upset.
Then up this ladder. It is a lot steeper than it looks in the photo, and was pretty much the final straw for The Boy. We left at this point and went and did something more fun in the sunshine.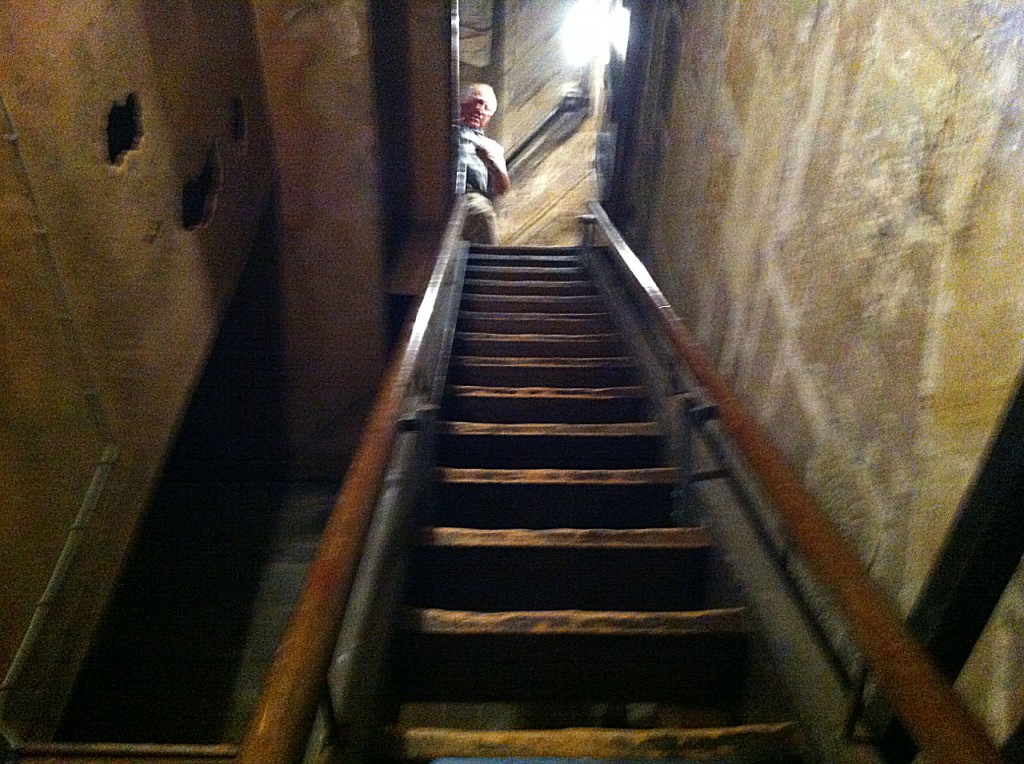 Two hours later, I came back on my own and finally managed to get to the bell room (or whatever it is called). It was poorly lit, with a bright central light that ruined all the photos I took.
There are 12 bells dating from the 1930s all the way back to the 15th century. There is also a small 12th century bell, which they don't ring as it "sounds awful".
I was told that the method ringing the bells "mouth up to mouth up" is a particularly British method, which doesn't happen elsewhere. Every day is a schoolday. They then rang one of the bells for us… but only if we all put our fingers in our ears. Old-school Health & Safety.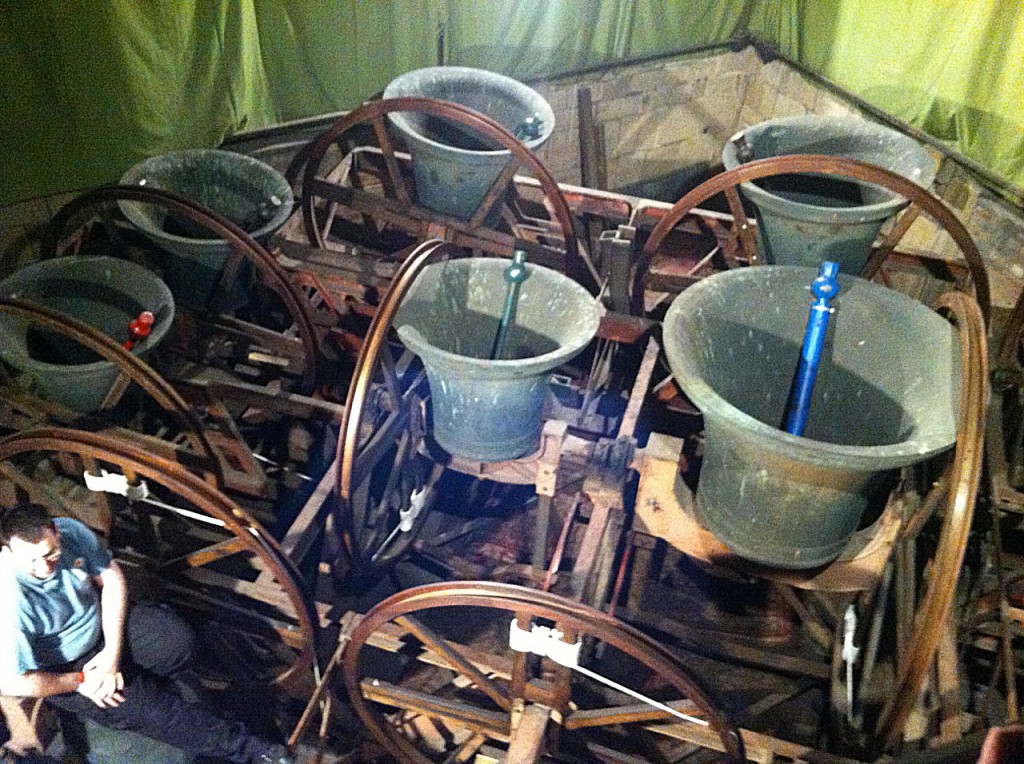 And then we went on, up a wooden spiral staircase…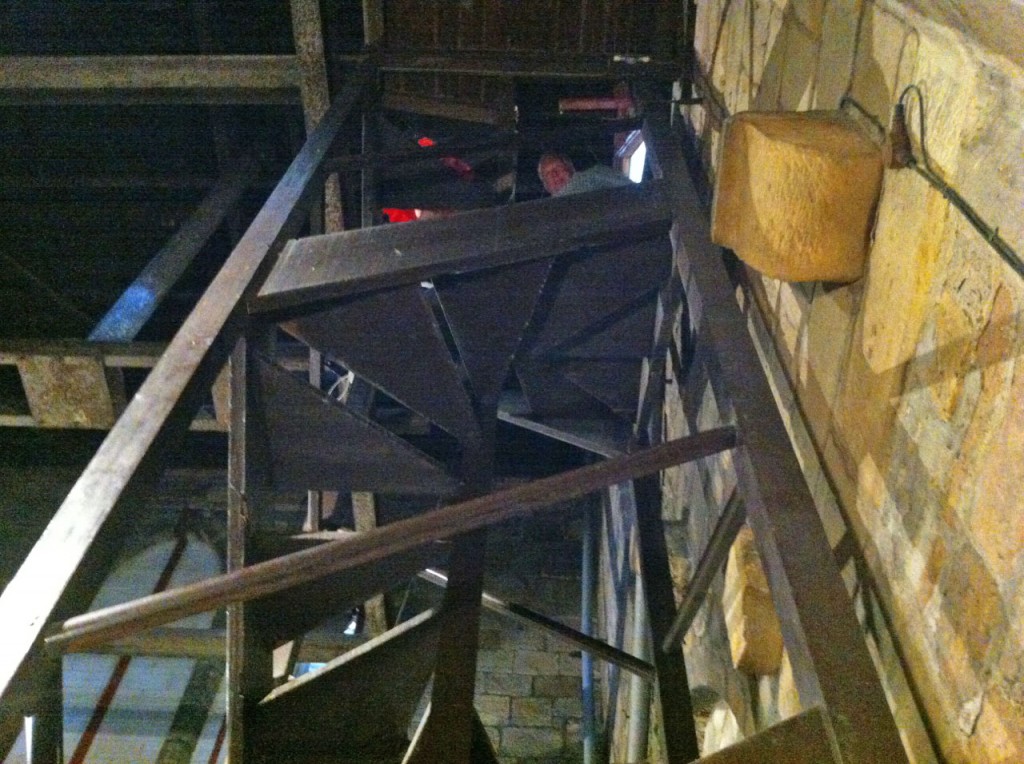 …and then on to a stone spiral staircase. It was incredibly narrow (viewed from above).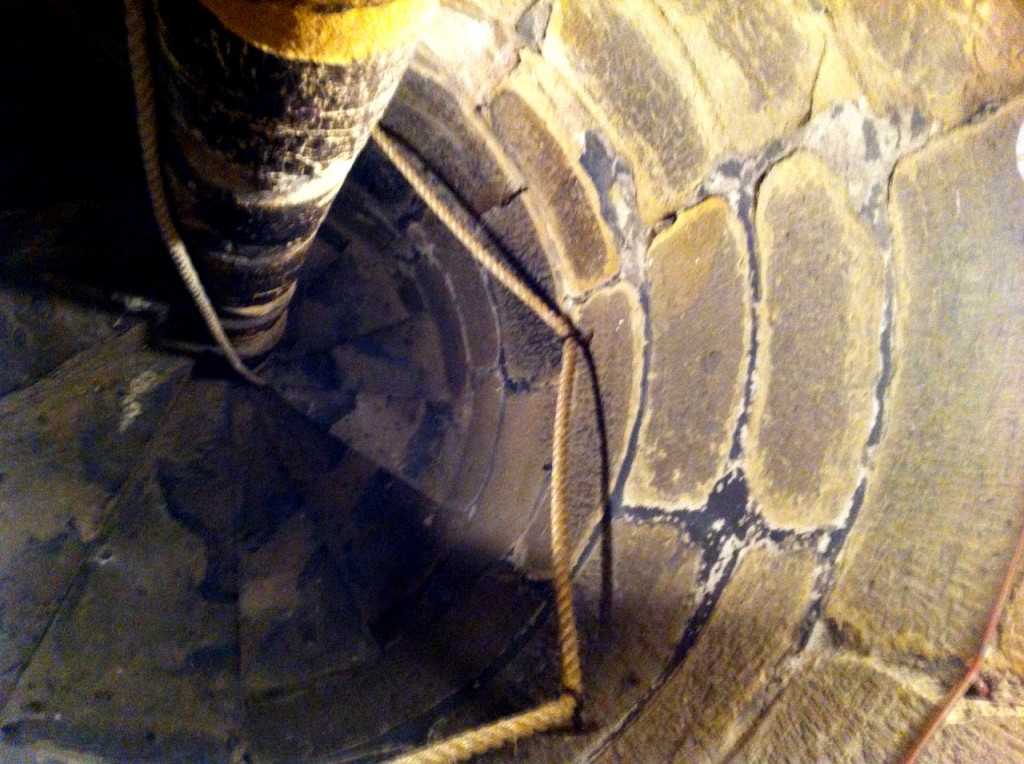 And then, with a "Mind your head, duck" each, we were on the roof.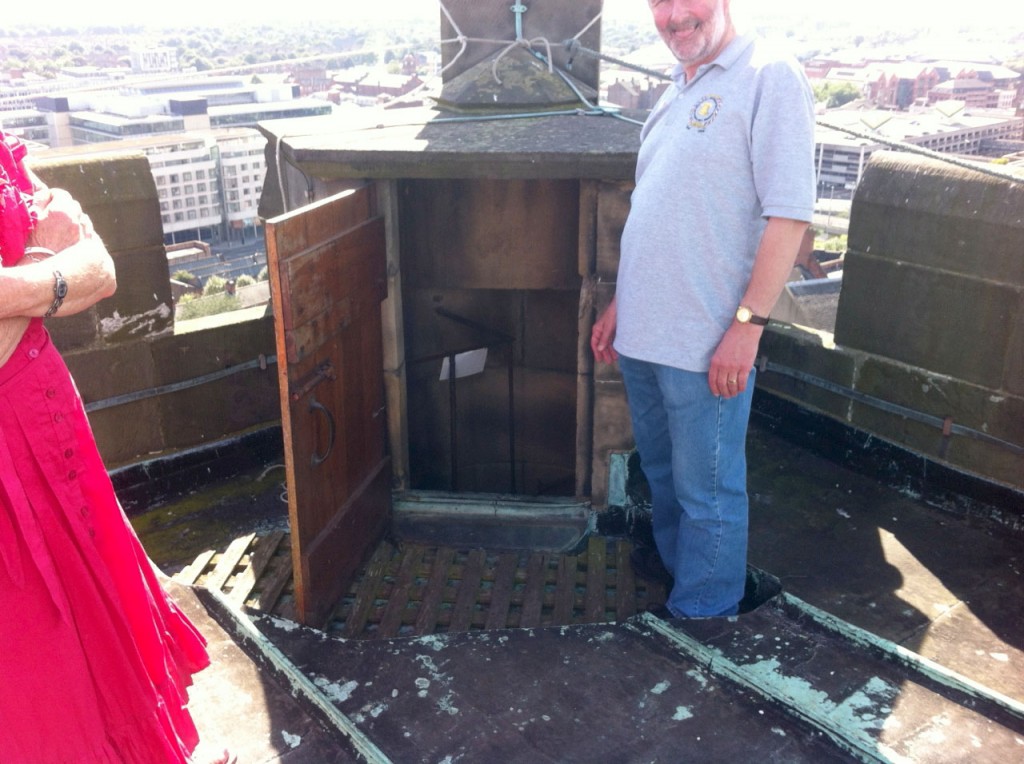 And here's Nottingham. North: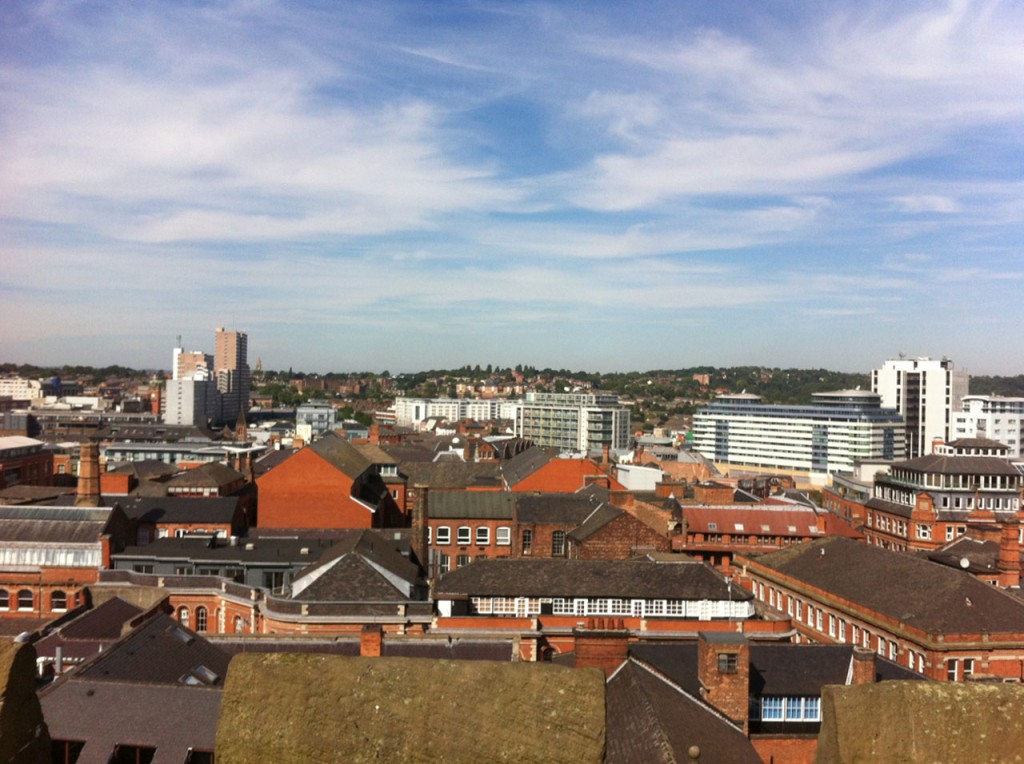 South: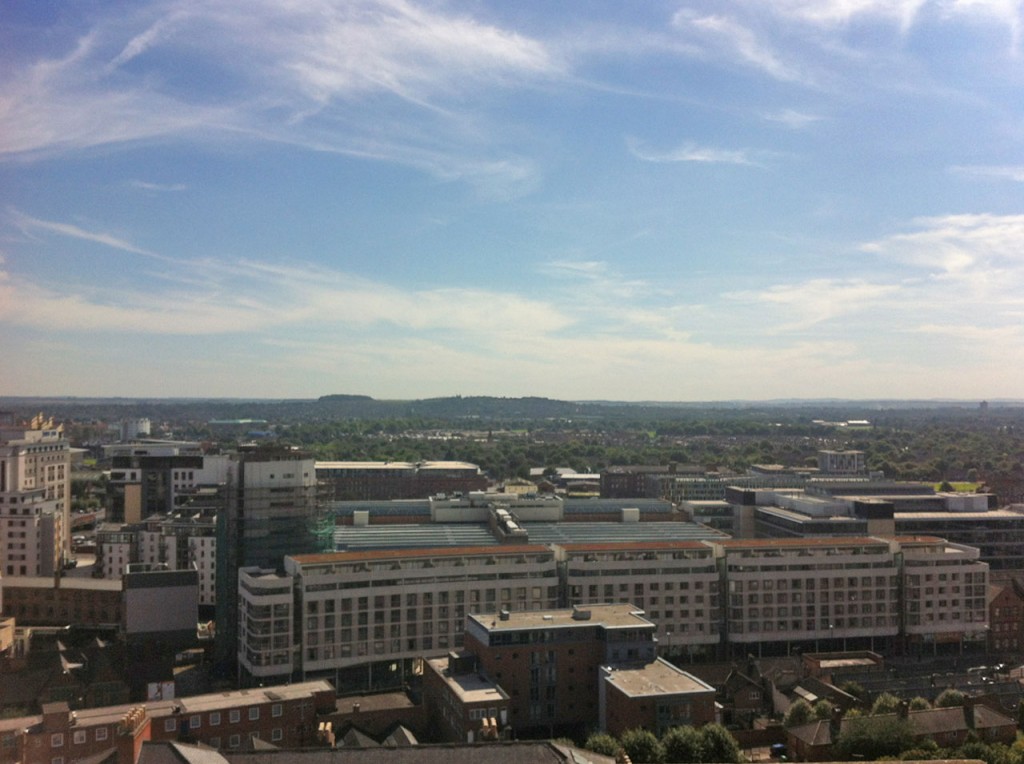 East: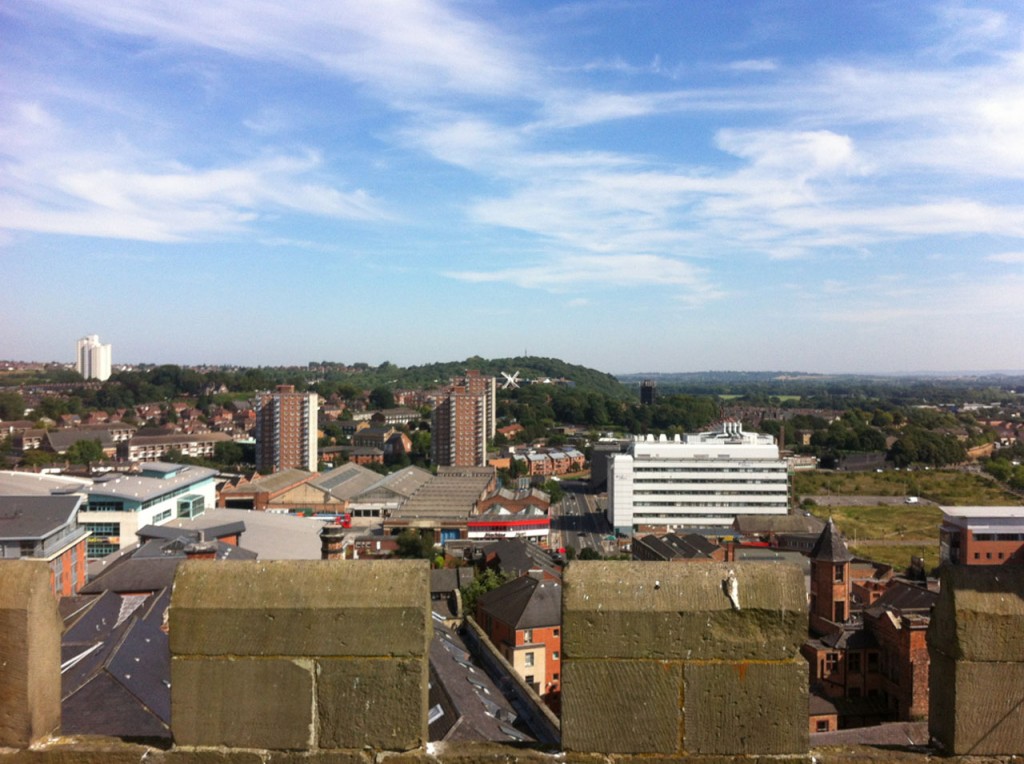 West: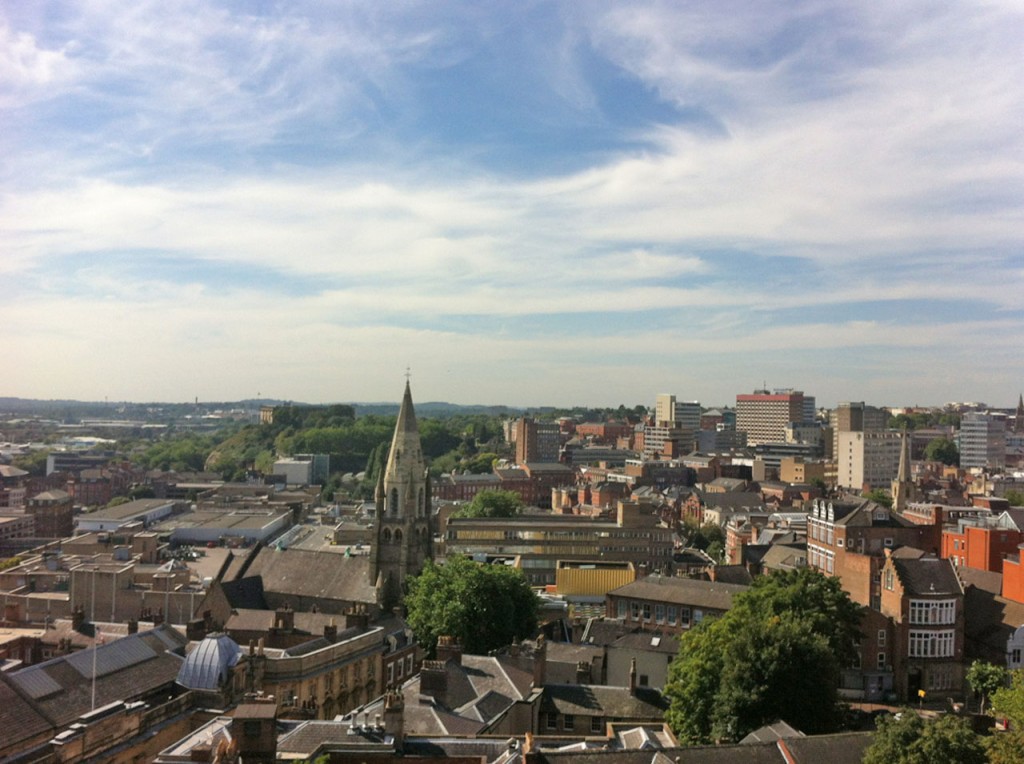 The Council House and Market Square: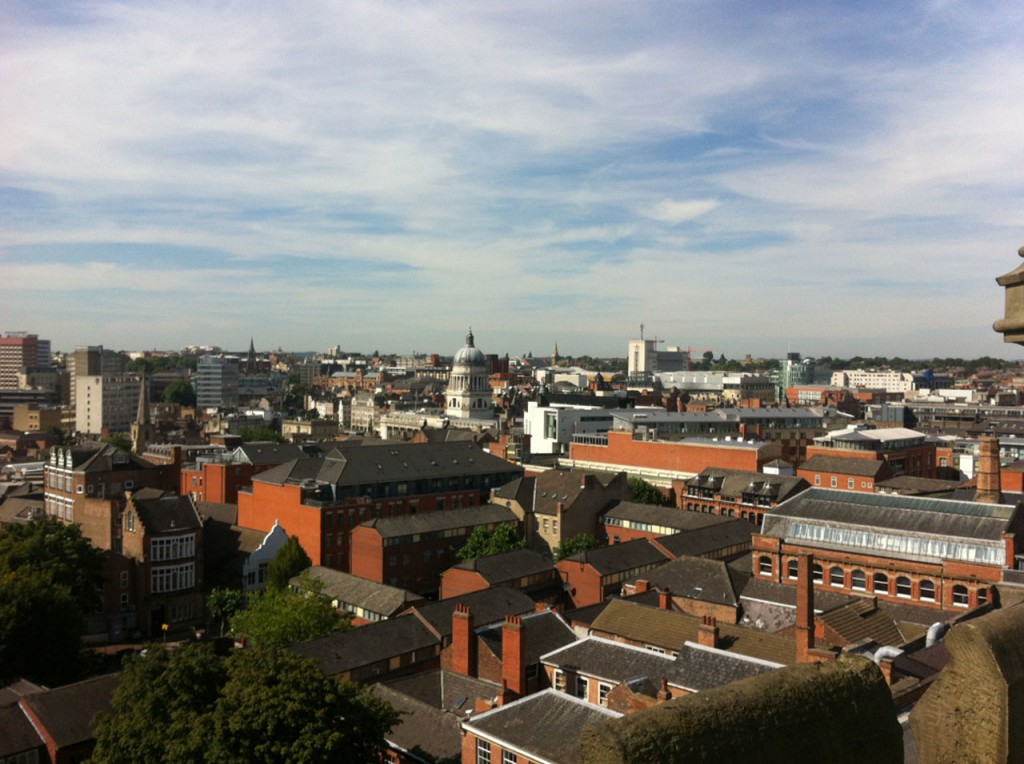 The Lace Market: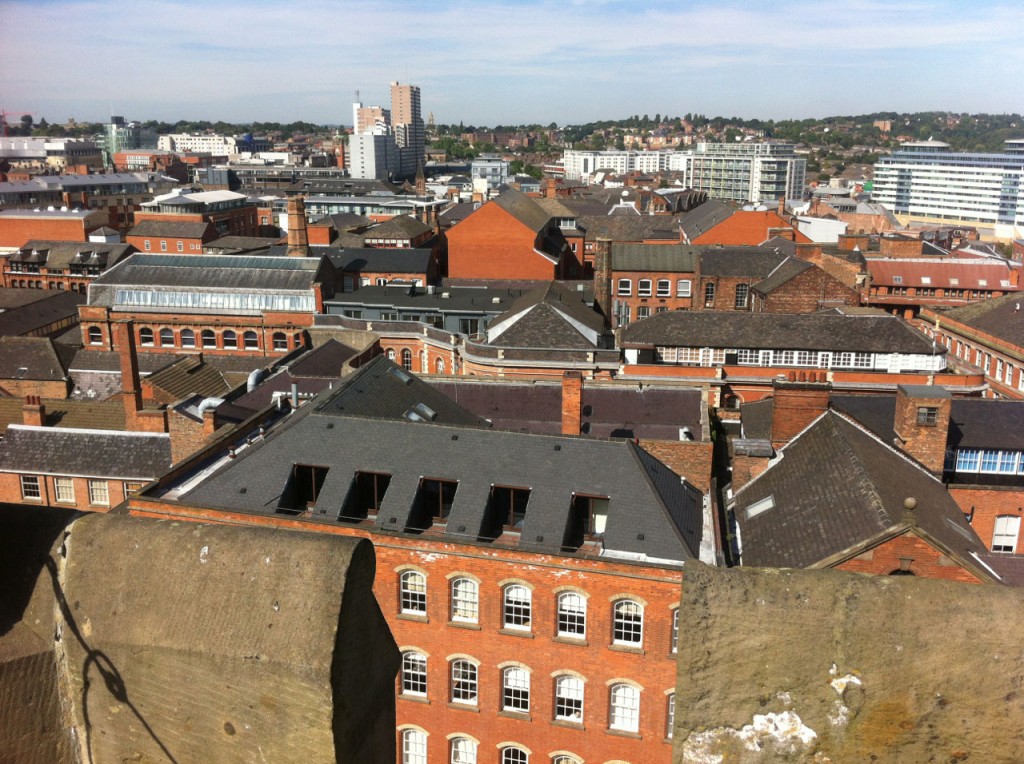 Broadmarsh and the castle: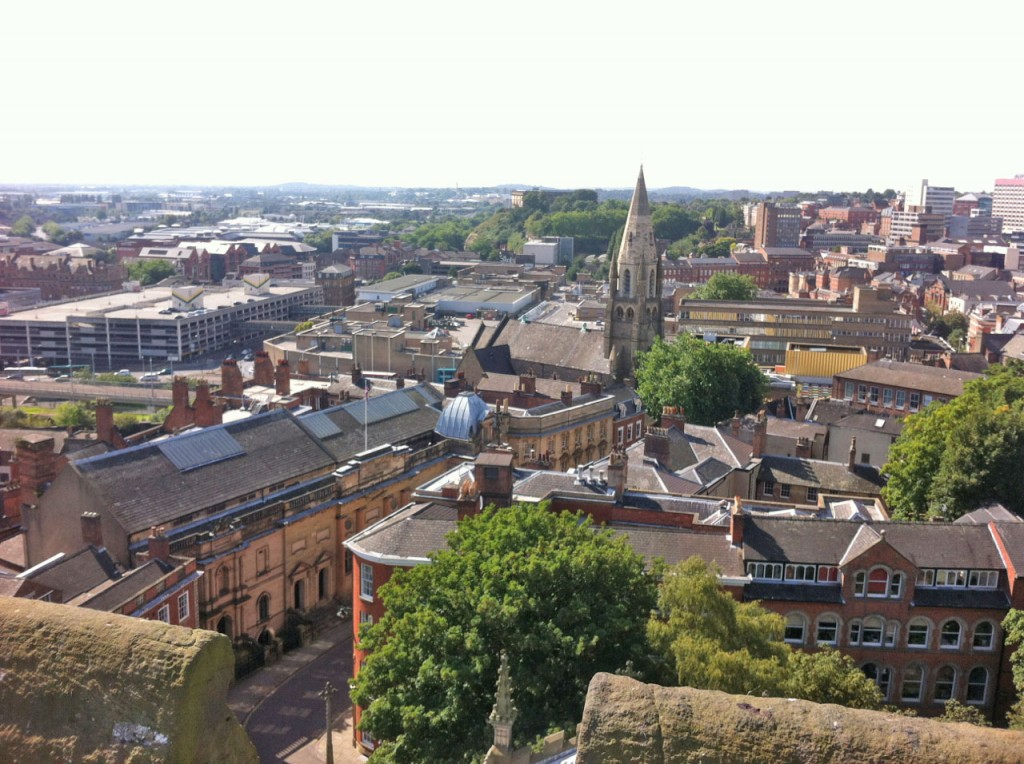 It seems a shame to finish on a shot of Broadmarsh and all its bulldozed heritage, so here's a rather splendid shot of St Mary's from the ground.
And a big thank you to all the brilliant volunteers from The Friends Of St Mary's Nottingham for all the interesting information – and being incredibly patient with a man with a rather upset little boy.