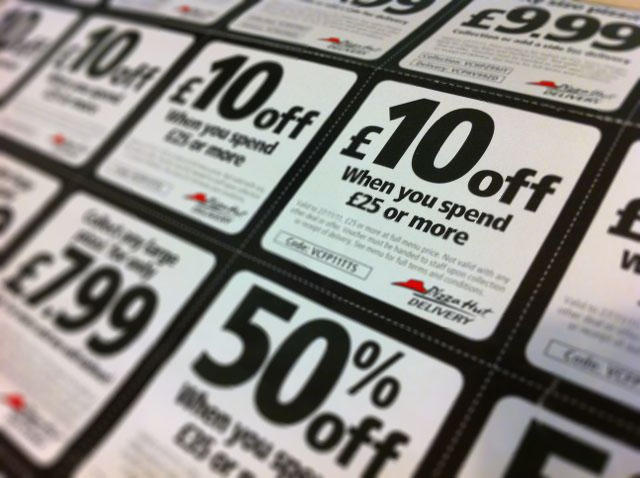 I fancy a pizza, but I am constantly infuriated by the maddening array of vouchers that are included in the Pizza Hut/Domino's/Pappa Johns stuff that comes through our letterbox.
I can 'buy one pizza and get one free'… on a Tuesday. Between 12pm and 6pm. If I collect it.
I can 'get £10 off'… if I spend £25 or more.
I can 'get 50% off'… if I spend £35 of more.
I can get 'any pizza for £9.99'… if I collect it.
I can 'get £5/£10/£20 off'… if I spend £20/£30/£50. Online.
Aaarrrrrggghhh! Why can't they just tell me what a pizza costs? Today? For two medium pizzas?
Why do I have jump through a series of bewildering hoops to try and work out if I'm getting a good deal, or if I'm missing out on a £10 saving for the sake of ordering a bottle of pop, or ordering after 6pm?
They all do it. All of them. They are worse than the mobile phone companies for pretending to offer you a deal, but still taking the same amount of money off you – no matter what you do. I assume they all have a big Excel spreadsheet, called the Bullshit Matrix, which artfully ensures that there is no possible way for you to win.
Well, I won tonight. We had a Chinese.